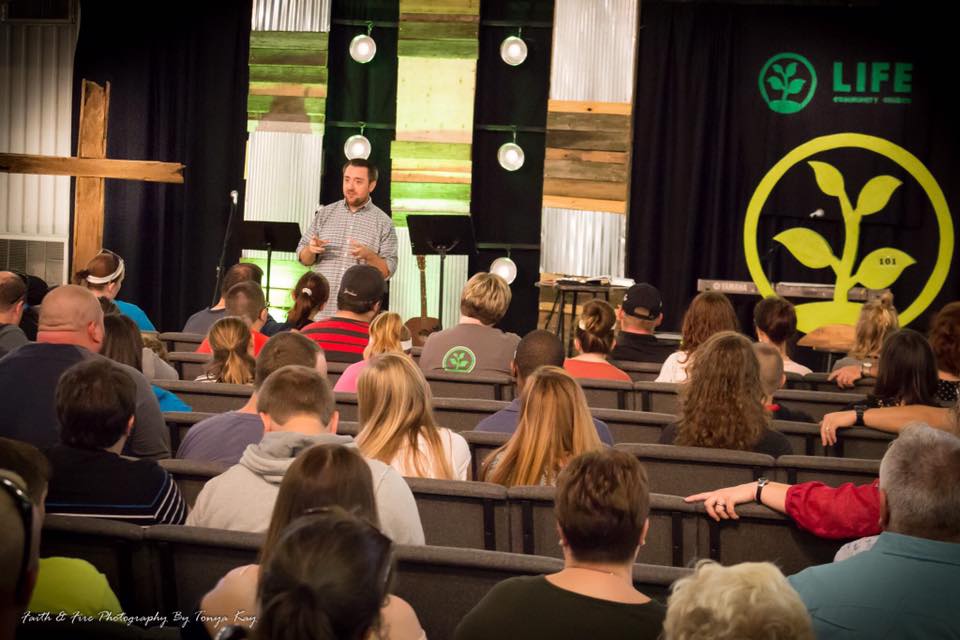 Our Vision:  To be a  Great Church that is committed to The Great Commandment and the Great Commission
Our Mission:  Connecting, Caring, and Changing
Connecting to Christ–  Life Community seeks to connect with Jesus Christ;  in our gatherings, in our families, and in our lives.  The only way to live is through Jesus Christ (John 3:3, 3:16, 14:6), therefore we invite people to experience the Cross and Resurrection of Jesus Christ, The Church Family, and His Reviving Spirit.
Caring for People–   Life Community seeks to care for people through a Christian Community (exemplified in Acts 2:43-47).  Therefore we  gather for weekend worship and we gather into small groups (Life Groups) for Bible Study and relationships, while developing a heart to care for people in our church and community.
Changing the World–  Life Community seeks to make a difference in our community, state, nation, and world as Christ has commanded us (Matthew 28:18-20, Acts 1:8).  Therefore Life Community will reach out into the world with the life changing message of Jesus Christ; encouraging her members to serve and make difference.
Our Purpose: Worship, Ministry, Evangelism, Fellowship, and Discipleship.
The Great Commandment:
"Jesus said, 'Love the Lord your God with all your heart…soul…and mind.  This is the first and greatest commandment.  And the second is like it: Love your neighbor as yourself.  All the Law and Prophets hang on these two commandments.'"  Matt. 22:36-40
The Great Commission:
"Jesus said, 'Go and make disciples of all nations, baptizing them in the name of the Father and of the Son and of the Holy Spirit, and teaching them to obey everything I have commanded you."  Matt. 28:19-20
 To "Love God with all your heart" is "WORSHIP".
 To "Love your neighbor as yourself" is "MINISTRY".
 To "Go…make disciples" is "EVANGELISM".
 To "Baptize…" is to "FELLOWSHIP".
 To "Teach them…all things" is "DISCIPLESHIP"